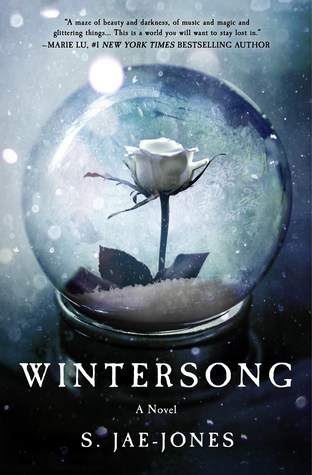 Beware the goblin men and the wares they sell.
All her life, nineteen-year-old Liesl has heard tales of the beautiful, mysterious Goblin King. He is the Lord of Mischief, the Ruler Underground, and the muse around which her music is composed. Yet, as Liesl helps shoulder the burden of running her family's inn, her dreams of composition and childish fancies about the Goblin King must be set aside in favor of more practical concerns.
But when her sister Käthe is taken by the goblins, Liesl journeys to their realm to rescue her sister and return her to the world above. The Goblin King agrees to let Käthe go—for a price. The life of a maiden must be given to the land, in accordance with the old laws. A life for a life, he says. Without sacrifice, nothing good can grow. Without death, there can be no rebirth. In exchange for her sister's freedom, Liesl offers her hand in marriage to the Goblin King. He accepts.
Down in the Underground, Liesl discovers that the Goblin King still inspires her—musically, physically, emotionally. Yet even as her talent blossoms, Liesl's life is slowly fading away, the price she paid for becoming the Goblin King's bride. As the two of them grow closer, they must learn just what it is they are each willing to sacrifice: her life, her music, or the end of the world.
Review:
When i first heard about Wintersong i fell in love with the cover and the description.They made me think about a beautiful fairytale and about happy endings.But,when i started reading the book i saw that even if it had the idea of an fairytale,things weren't exactly like that.
I loved the whole idea-i love the fact that ,finally after all this time,i get the chance to read about how a character can find true love and the truth about herself if she is pushed by someone else,even if that someone else is someone who is too selfish too see the truth,even if that someone else is doing her more harm than good.This is the kind of story that makes your head spin,but at the end of the book you realize that not all the stories are how you thought they'll be.
I admit that it was beautiful and heartbreaking at the same time.It was something new and unique,but there were some things that drove me a little insane.If i have to write a few i have to begin with the many faces of the Goblin King..How he was acting like a normal person now,and after a few minutes he was acting like a cold hearted goblin.I hated that,but at the same time i loved it.It was irritating and ,yeah,it drove me insane the fact that i liked that.
I do have to admit that the story was fascinating,but i'm not a musician and i don't have a clue about classic music,about Vivaldi and sonatas,or anything else that was present in this book.Yes,i'm clueless when it comes to this,but the story was what i wanted to read the most and i've done it.
My heart was beating like a lunatic when i started to read about how the Goblin King did everything in his powers to make Elisabeth his bride.It was impressive,but a little bit too much.I do love a beautiful love story,this one was,with a lot of tricks and crazy things.Many ups and downs.
What i loved the most about this book?The characters and how everything was written.Why the characters?Well,let's just say that every single one of them at the beginning were a mystery to me.Step by step ,i had the chance to find out more about them,especially Liesl(Elisabeth) and the Goblin King.Mainly those because they fascinated me from the beginning.
Even if i hated a little the many faces of the Goblin King,i have to admit that it was a little exciting to read about how he was chaning personalities so fast and so easy.It was crazy.Yet,i can't hate him.Charming,handsome(even for a goblin..especially the way the author described him) and selfless(even if he acted like he was the most selfish being alive).
My thoughts about Elisabeth? I loved the fact that she was strong and determined to do what was right.She was impressive and i enjoyed reading about her.She was a true hero,someone who thought about everyone else first,And i admit that everything that happened to her broke my heart a little.
This book was about true love.A love between two people who were trying to do everything in their powers to live,even if they never thought to do something for themselves.THis book was about sacrifice,about tricks and games.This book was full of ups and downs.About what a girl can be capable do do for her family,for those who she loved.
It wasn't perfect.It had many flaws,many heartbreaking moments.But..It was the perfect proof that true love exists .