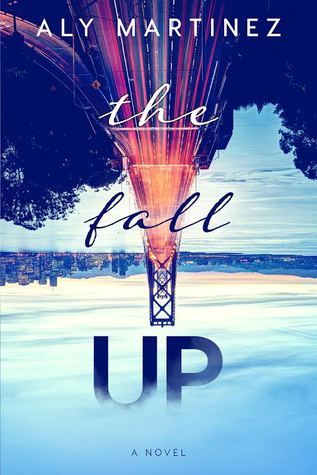 I wanted to jump.
He made me fall.
As a celebrity, I lived in the public eye, but somewhere along the way, I'd lost myself in the spotlight.
Until he found me.
Sam Rivers was a gorgeous, tattooed stranger who saved my life with nothing more than a simple conversation.
But we were both standing on that bridge for a reason the night we met. The secrets of our pasts brought us together—and then tore us apart.
Could we find a reason to hold on as life constantly pulled us down?
Or maybe there's only one direction to go when two people fall in love at rock bottom—up.
Review:
"
There isn't a woman in the world who doesn't have demons of some sort. No matter who I end up with, it's always going to be a struggle." I kissed her hair again, letting it linger as if my lips were able to transfer the truth of my words. "Levee, I'd like to struggle with you."
I remember when i've first read the description i wasn't sure if i wanted to read this book,but i decided to give it a chance and that maybe it won't be that bad.
Well,it wasn't bad,but i can't say that it became my favorite.
This is another book that gives us a sneak peek about what could happen in someone's life,when that person loses someone important or when he/she feels like her/his life is too hard to handle. The story of two people who met on a bridge and who had the same intention,but just one of them was capable of doing it. In fact, i could say that this book was about two people who saved each other and fell in love,despite everything that was happening in their lifes.
"The perpetual free fall was no match for the way he made me feel.
I was still falling at unstoppable speeds – only, in his arms, as his body claimed me without a single word spoken, I was suddenly falling…up."
Leeve Williams is a celebrity who has the whole world at her feet,but her real life isn't a good one. Dealing with everything is too much for her and her life almost spirals out of control. The reason why she was on the bridge that night. But everything changes when she met someone there,someone whose life made him go there,thinking about doing exactly what she had in mind.
Sam Rivers changes completely from the moment she saw her on that bridge,but his mind keeps reminding him what happened in the past,making him do exactly what she needed him do to. But Sam's fears could become reality and that's something that makes him fight harder for what he truly wants. But what if that isn't enough? What if..
I liked the whole idea and i enjoyed reading about Leeve and Sam. They were fun and pretty good characters,but i have to admit the fact that Leeve was a little annoying at some point. Sam? He was the only one who i liked from the beginning and the only one who made everything easier to read.
I enjoyed reading book and it made me laugh a few time. Yes,it had a lot of ups and downs,especially when it came to the reasons why Sam and Leeve met on that bridge.
"I slid a hand down the rail to cover hers.
It was a simple gesture, but it was easily the
greatest
decision I'd ever made.
That one touched destroyed a wall.
I wasn't even sure whose wall it had been to begin with— hers or mine. But I would have spent my entire life tearing it down if I could have only predicted what was on the other side."
It wasn't bad and it had some pretty good moments,but the whole message was clear and it made me think about some things. I loved the fact that in some way this whole book was like a second chance for Sam and Leeve. A second chance to realize that despite everything that happened in the past,the present and the future were more important.And my favorite thing was the fact that this book was written from Sam and Leeve's point of views,giving me the chance to know what was in their minds.