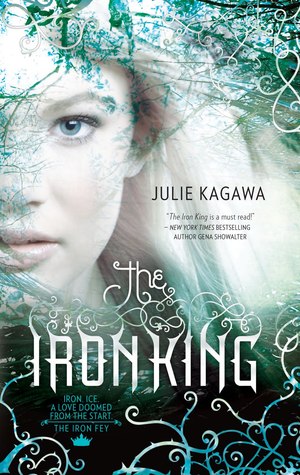 Meghan Chase has a secret destiny; one she could never have imagined.

Something has always felt slightly off in Meghan's life, ever since her father disappeared before her eyes when she was six. She has never quite fit in at school or at home.

When a dark stranger begins watching her from afar, and her prankster best friend becomes strangely protective of her, Meghan senses that everything she's known is about to change.

But she could never have guessed the truth - that she is the daughter of a mythical faery king and is a pawn in a deadly war. Now Meghan will learn just how far she'll go to save someone she cares about, to stop a mysterious evil, no faery creature dare face; and to find love with a young prince who might rather see her dead than let her touch his icy heart.
Review:
"Combat doesn't have to be with swords... Emotions can be deadly weapons, and knowing your enemy's breaking point can be key to winning a battle."
Once upon a time there was a girl who thought her life was simple and normal like everyone elses,but what she never thought was that in another world,a magical world where fairies ruled and magical creatures existed,she was a princess whose mission might change everything and everyone's lifes.And everything started with this:someone kidnapped her brother,forcing her to do things she never thought will do ,forcing her to open her eyes and see Them.
This book was the first book about fairies that i've read and loved so much.Since this isn't the first time when i read this book( i can't remember how many times i picked up the book and read it,but every single time it feels like the first time.),i can honestly admit that i enjoyed it the same and it made me feel like it was the best book that i've ever read.
Julie Kagawa created a magical world full of adventures and amazing characters.A world that fascinated me from the beginning ,making me imagine everything and how things happened ,because it was easy for me to imagine every single scene that happened.'
The Iron King is the beginning of an adventure into an magical world ,a world you can only hear about it in fairytales.A world in which the impossible can happen,where you can find creatures you can never see in the real life,creatures that will show you things that will take your breath away,and they will keep you in suspense until the next step.A dangerous world,but at the same time a charming world.Full of promises and deceptions,the world of fairies isn't like our world.Every creature can be a threat or it can be an help.You never know what could happen.
This book is the kind of book that will charm you from the beginning,that's something that i can say from my own experience,because once i started reading i couldn't stop myself.
You want to know the reason why i loved this book so much?Because of the way it was written,the way the story transformed and the way the characters evolved.And since i love reading a good book about magical creatures and badass characters,i couldn't pass this and so far The Iron Fey is still my favorite series and that won't change.Ever.The best things?The story wasn't rushed and every scene was described well.Speechlees and breathless,that was how this book left me.
All Meghan Chase wanted was to be left alone and mind her own buisness,but something strange happened to her after her sixteenth birthday,something that makes Meghan wonder if she was crazy or if the things she started to see were real.But everything changes completely after Meghan finds out that her brother was kiddnapped and replaced with a changeling,and that her best friend is a mytical,old and very powerfull fairy.From there,Meghan starts an dangerous adventure into the land of fairies too save her brother..But what if Meghan's life changes completely?What if there are truths that will make her see that her entire life was a lie?What if something huge happens and Meghan is forced to stay in Nevernever?What if...Being half human,half fairies isn't something that Meghan wished for.A secret destiny,full of ups and downs.
"You're scared?'
He shook his head. 'Floppy's scared.'
'What's Floppy scared of?'
'The man in the closet"
When i say that this book has an adventure that you can't ignore,i'm not lying.And,honestly ,why would i do that?Right now my brain is trying to find the right words to describe this amazing book and it seems that i have a lot to write!
The fact that the characters were strong was the best things,because i couldn't have delt with an annoying and a drama queen main character.But Julie Kagawa managed to surprise me ,writing about an amazing,strong and beautiful character,one whom managed make me love this book even more.Why?Because she wasn't a drama queen.
I know many of those who have read this book hated Meghan and because of that they didn't like the book.But me?I have to disagree with them.Meghan was exactly the type of character that this series needed.Strong,determined,fierce and very loyal,Meghan started her journey with her head up ,even if she didn't know what she was getting into.And besides her determination and her stubborness,i liked that she was strong enough and didn't make me want to strangle her.That's a bonus.A lot of things happened,and i guess it's normal when she was a little weak or confused.But the rest?She surprised me in each chapter.Another bonus.
"Me? Die? Didn't they tell you, princess? I'm Robin Goodfellow."
When i described this story a little i mentioned Meghan's best friend,the one who i said about that the was a fairy,but i never said his name.
Robin Goodfellow aka Puck.I loved him.He was the funny one,but he was determined to keep Meghan safe.Doing a lot of dangerous things,yet he was always funny and always making all kind of jokes.The type of character that makes you smile ,even if something bad happens.Like all the fairies,Puck was handsome and charming ,but i knew from the beginning that something was strange.Yet,he made me laugh a lot and the way he was acting was funny.Funny and dangerous,who would have thought?
"I licked my lips and whispered, "Is this where you say you'll kill me?"
One corner of his lips curled. "If you like," he murmured, a flicker of amusement finally crossing his face. "Though it's gotten far too interesting for that."
I loved reading about the Summer court.About Oberon and Titani,and the other characters from there.It was fascinating and it made me want to re-read it over and over again,because i loved the way the author described the court.Yet,when the chapter with the Elysium happened ,something happened ,something that left me breathless:The Winter Queen arrived with her peoples.Another scenes well written.But what i enjoyed the most?Meeting Mab's son,the Prince of Winter,Ash.
Being a prince of Winter Court,Ash is handsome and charming,but very dangerous.He was the one who managed to make my heart beat like crazy and wish for something amazing to happen.Despite all the warnings in my head,i knew that Ash will become an important character and that i will enjoy reading about him.Yes,he won my heart just by being:mysterious ,dangerous and very handsome.
"But if the Nevernever dies, won't you disappear, as well?"
"I am a cat," Grimalkin replied, as if that explained anything."
Oh,well,another character that i liked was Grimalkin,a cait sith,who will help Meghan in her journey.Strange?Yes.Powerfull?Well,he is a cat and knows a lot,but i admit that he was the kind of character that makes you wonder a lot of things.And like Puck,there were times when he made me laugh.
Step by step,everything changes,transforming into something more dangerous and fascinating. Reading about Nevernever and about what was happening there was worth it.It was amazing.But i loved the way everything turns out,how Meghan ,Puck,Ash and Grimalkin journey through Nevernver changes and becomes something huge,mainly when they find out who kidnapped Meghan's brother.I loved read about Seelie and Unseelie Courts,but imagine my surprise when i started reading about the Iron Fey.The whole reason why everything started from the beginning.
Fascinating?Check.Full of surprises?Double Check.Want more?Yes,yes..and Heck Yes!I loved it and yeah,i could read this book a thousandth times and i would never get tired of it.
You can find my review on Goodreads:
The Iron King
.