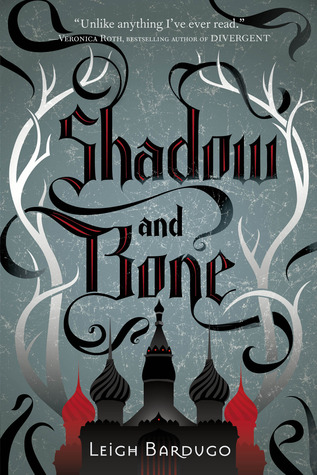 Surrounded by enemies, the once-great nation of Ravka has been torn in two by the Shadow Fold, a swath of near impenetrable darkness crawling with monsters who feast on human flesh. Now its fate may rest on the shoulders of one lonely refugee.
Alina Starkov has never been good at anything. But when her regiment is attacked on the Fold and her best friend is brutally injured, Alina reveals a dormant power that saves his life—a power that could be the key to setting her war-ravaged country free. Wrenched from everything she knows, Alina is whisked away to the royal court to be trained as a member of the Grisha, the magical elite led by the mysterious Darkling.
Yet nothing in this lavish world is what it seems. With darkness looming and an entire kingdom depending on her untamed power, Alina will have to confront the secrets of the Grisha . . . and the secrets of her heart.
Shadow and Bone is the first installment in Leigh Bardugo's Grisha Trilogy.
Review:
"People, particularly big men carrying big rifles, don't expect lip from a scrawny thing like me. They always look a bit dazed when they get it."
The fact that i'm a huge fan of books like this one,it was easier to me to get used to the whole idea of a world full of magic(even if in this story it was called small science),full of mysteries and great adventures. Full of darkness and light. Full of lies..And betrayals. But you know what they say:You can always find light in the darkness.
Since i started reading this book i was fascinated and it was the perfect adventure,exactly how i like it. Given the fact that it was full of badass characters made everything pretty epic,but ,still,the story and everything was what made me enjoy this book more than i thought.
It wasn't an easy read. It was full of complicated moments and you could say that it was the perfect picture of a world in which the Darkness could destroy everything,but that doesn't mean that you have to stop believing in hope,in light. I loved it and it was fascinating how the whole story transformed from something interesting into something incredible and brilliant. You could say that it's a masterpiece,a brilliant way of telling how a young girl's life twisted,turning into something that she never asked for,transforming her into a hero,or maybe a villain..One wrong step into the wrong direction and it could transform her into monster..But now i know who the real monster in this story is..Despite that,and i hate to admit this, that monster was too fascinating and a real mystery..A mystery that one day i hope i'll find the truth about. I refuse to believe thst he won't change.
Alina Starkov was used with the idea that she'll never be a Grisha.But her life wasn't easy at all. Being a part of the war,Alina was a mapmaker assisstant in training,trying everything in her power to help her people..But one step into the Shadow Fold changed everything for her..Making her realize that her life was more important,because somehow one day she'll become exactly what the people needed..But what Alina never thought about was that the one who helped her learn who she was,was the one who will betray her...Making her see that she could be a pawn or she could fight with all everythin she has.
You want to know what i really loved about this book?The characters,their stories and the way they evolved step by step,changing everything and making everything better and perfect. But some of them are still a mystery to me and i kind of hate that.
My heart was beating like crazy when i started to read more about what was happening,when the story started to complicate,showing who was a friend and who was a foe..It was awesome!Because like i said above,it was fascinating to read about Alina,The Darkling and all those characters.
"The problem with wanting is that is makes us weak. How right he was. I'd wanted so badly to belong somewhere, anywhere. I'd been so eager to please him, so proud to keep his secrets. But I'd never bothered to question what he might really want, what his true motives might be. I'd been too busy imagining myself by his side, the savior of Ravka, most treasured, most desired, like some kind of queen."
There were times when i thought that Alina was a little annoying,at the beginning.Yet,with each chapter i started to see the real Alina,the one whose life was too complicated from the beginning,the one who fighted to survive and wanted something for herself.The one who never thought that inside her was hiding something huge,a power capable of saving everyone.She was a fighter,born to change everything in her path,but also her destiny was to endure everything that was thrown at her,good or evil.I loved her strenght,her way of thinking,even if i wanted to shake some sense in her ,because she was easily trapped into the charms of a man who was capable of anything.I admired her loyalty to those who she loved,especially Mal,even if that meant she had to do something drastic,something like letting the world endure the Darkling's wrath.
"I've been waiting for you a long time, Alina" He said. "You and I are going to change the world."
Honestly,all the time,from the moment i started to read about the Darkling i started to wonder what happened to him,why he became what he was in that moment and how everything will end up for him.There were times when i hoped that maybe he won't be the bad guy,because his whole being was a pure mystery for me,and i know i'm not the only one who's thinking that.But still..He fooled me a lot of times,making me feel things i shouldn't feel for a bad guy,yet i couldn't stop myself.It seems that my heart refuses to believe that he can't be saved or that he can't change.Yeah,i do love a mystery,especially if it comes into the form of a man dressed in black and one who is powerfull enough to change the world.
"Mal,"I whispered into the night.
"What?"
"Thanks for finding me."
"Always."
From time to time i was constantly thinking about Alina's best friend,Mal.Best friend or not,at first i started to believe that Mal won't have a huge role in this story,but once i started to see the truth i was relieved ,because deep down in my heart i knew that Alina needed him,more than anything else.He was the kind of character who was strong enough to do harm,but at the same time the kind of character who was thinking twice before doing something.I liked the way he was thinking ,but what i liked the most about him was the fact that he never gave up,alwasy helping Alina,always there so she'll never be alone.
This adventure was full of beautiful being,i found myself enjoying the Grisha's way of living,despite the fact that i hate it when i find that once again the world was divided,between those with power and those without power.It makes me angry,but i understand the reason behind that,something that it made everything easier for me.
It was fascinating reading about the Little Palace,where Alina learned everything about her powers and about the Grisha society.I loved the fact that there was something that showed the difference between all the Grisha,the piece of clothing called kefta.Unique and very interesting,but in my mind i couldn't imagine how a kefta might look.My heart almost jumped out of my chest when i've read about what colour the Darkling choose at first for Alina.How am i supposed to hate that guy?How?
"They are orphans again, with no true home but each other and whatever life they can make together on the other side of the sea."
But never in my mind did i imagined what would happen next,how the story will twist and turn everything.It was a complicated path,one who helped Alina realize that her purpose was bigger and that in that world ,twisted and bitter,she had to do everything in her power to keep the Darkling away from her.Something made her open her eyes,seeing the truth behind the words of an manipulating and dark man,a man who wanted to show the world that he could rule the world.
Fascinating,exciting,thrilling and mind-blowing.A real masterpiece,waiting to win your heart and make you want to know more.