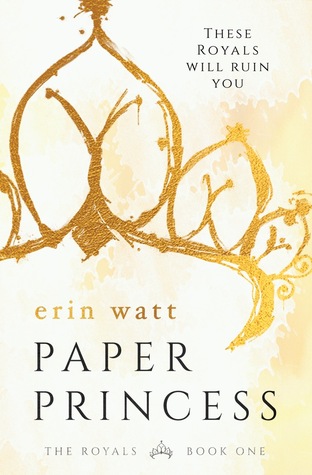 From strip clubs and truck stops to southern coast mansions and prep schools, one girl tries to stay true to herself.
These Royals will ruin you…
Ella Harper is a survivor—a pragmatic optimist. She's spent her whole life moving from town to town with her flighty mother, struggling to make ends meet and believing that someday she'll climb out of the gutter. After her mother's death, Ella is truly alone.
Until Callum Royal appears, plucking Ella out of poverty and tossing her into his posh mansion among his five sons who all hate her. Each Royal boy is more magnetic than the last, but none as captivating as Reed Royal, the boy who is determined to send her back to the slums she came from.
Reed doesn't want her. He says she doesn't belong with the Royals.
He might be right.
Wealth. Excess. Deception. It's like nothing Ella has ever experienced, and if she's going to survive her time in the Royal palace, she'll need to learn to issue her own Royal decrees.
Review:
Rating:6/5 stars.
"You may have lost your family, but you're not alone anymore, Ella. You're a Royal now."
Big question:How to start this review?Because right now i have no idea!Since i finished reading this book,my emotions are all over the place and my mind refuses to understand the fact that i have to wait a lot until i can get all my answers to all my freaking questions..And,seriously,i'm overthinking everything,like usual.Ha..
This book was absolutley the kind of book that makes me want to jump up and downs when something huge happens.I couldn't stop myself from reading half the book at first,but i had to stop because i had to go to sleep.Why do we need to sleep when there are amazing books like this one?Why,oh,why?Yikes.
Ella Harper's life isn't a fairytale and it will never be.Since her mother died,Ella has to do everything she can in order for her to survive ,but that implies working in shady places doing something she hates.But once again Ella's life turns upside down,transforming into a half fairtytale,half nightmare,since the moment Callum Royal stepped into the club Ella was working,telling her that he was his legal guardian.
Reed,Easton,Gideon,Sawyer and Sebastian.Five boys who have everything they need:money,power and everything a guy wants.But even then that doesn't mean they have everything,something like:love and happines.Evey single step they do is planned.But if someones dares to say a bad word about them,they found out soon enough that it was a wrong thing to do.Ella's presence in their life changes everything,step by step.
"I feel the need to warn you that, we Royals are pretty fucked up. We're good in bed, but out of it? We're like a stage four hurricane."
Going from one hell to another?Maybe.But Ella's life changes from the moment she meets the Royal brothers,especially Reed.
Another question:How am i suppossed to accept the fact that this book ended like that and don't ask myself what the hell just happened?Well,honestly?My mind is full of questions ,but i know i won't get any answers until the next book is published..
Paper Princess was a rollercoaster of surprises,from the beginning until the end.I was fascinated about how everything transformed and how the characters evolved.I loved it,even if at first i was a little shocked about how the Royals brothers were treating Ella,like she was trash and her plan was to steal everything from them.Well,not exactly shocked,but i wasn't impressed.I was excited ,because deep down i knew that this will be a story that i will enjoy to read and that it will be amazing.
I loved the fact that it wasn't something simple and that every single chapter had something exciting and entertaining,something that made me smile or laugh,or angry and sad.Depends,but i wasn't lying when i said that right now my emotions are all over the place!
There were a lot of lies,secrets and angry scenes.There were a lot of surprises.And it drove me a little insane the fact that i didn't get the chance to find out what was happening ,because there were a lot of things happening,things that Reed and Gideon were hiding and didn't want anyone to know.I want to know right now!Pretty please?
'I don't belong in splendour, I belong in squalor. That's what I know. It's what I'm comfortable with, because squalor doesn't lie to you. It's not wrapped in a pretty package. It is what it is.'
Ella Harper was an interesting character and she wasn't like i expected her to be.Smart,beautiful and capable taking care of herself,Ella isn't weak at all.I loved the fact that she didn't let the Royal brothers do what they wanted with her.It was fun the way she started to win their trust,even if neither of them thought about it.
Every single boy,every single Royal child made me realize that despite the fact that they were handsome,charming and full of life,there was something missing in their lifes.But each of them were interesting and it was fun to read about them,Mystery!Yeah.Reed was the one that drove me insane from the beginning,because he was acting like the leader and doing some things that made me hate him a little.That changed,fast!Because once i started to see pieces of the real Reed?My opinion changed completely!Gideon?Strange or not,i don't have an opinion about him,even if i find it strange how he was acting when Brooke was present or the way he warned Ella at some point.Easton?That guy was funny and i liked reading about him.He was fun and amazing,and it was easy for me to imagine how it could have been if something happened between him and Ella.Too easy.Did i mention that Sebastian and Sawyer are twins?No?Well,hot damn!Those two were the pranksters,but still like Gideon,i don't have an opinion about them,because this whole book was more about Ella,Reed,Callum,Brooke and Easton.Gideon and the twins were present,but their actions weren't huge,so i hope that in the next book i'll get the chance to read more about them.
The Royal boys are not what I expected. They don't look like rich pricks in preppy clothes. They look like terrifying thugs who can snap me like a twig.
There were a lot of characters that i enjoyed reading about,beside Ella and the Royal brothers.But i can honestly admit that i didn't payed much attention.My whole attention was to those six characters,because i was curious to see how everything will evolv.But now that i think about it,i wonder what was happening in Callum's head.Being the father of five young boys wasn't easy,but sometimes i got the impression that something else was happening with Callum.Another mystery..Huh.Too many of those,but i loved every single one.
And Brooke?Oh,how much i hated her and i knew from the beginning that she would be the one to destroy everything.She was too strange and too comfortable,as if she knew too much and she could do everything she wanted with those boys.Creepy much?
This story was the perfect combination between a mystery,cruelty,love and power.It wasn't a simple read ,not at all.It was complicated and every single chapter was a surprise.I loved it.But i admit that the end broke my heart,because i knew it will happen one way or another.I knew it and i hate it.Why?Because now i need the next book ASAP!Well,this book deserves more than five stars.
You can find my review on Goodreads:
Paper Princess
.