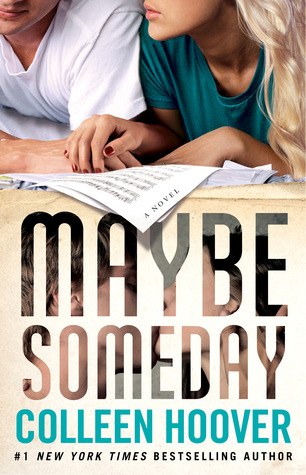 At twenty-two years old, Sydney is enjoying a great life: She's in college, working a steady job, in love with her wonderful boyfriend, Hunter, and rooming with her best friend, Tori. But everything changes when she discovers that Hunter is cheating on her—and she's forced to decide what her next move should be.
Soon, Sydney finds herself captivated by her mysterious and attractive neighbor, Ridge. She can't take her eyes off him or stop listening to the passionate way he plays his guitar every evening out on his balcony. And there's something about Sydney that Ridge can't ignore, either. They soon find themselves needing each other in more ways than one.
A passionate tale of friendship, betrayal, and romance,
Maybe Someday
will immerse readers in Sydney's tumultuous world from the very first page.
Review:

Rating:6/5 stars.
''I failed miserably at trying not to fall in love with you.
…
I failed first."
Once again my feelings are all over the place,because of this amazing book written by an amazing author.I just love it,they way she manages to make me feel a lot of things at once,wishing that i could get more because i can't get enough and i feel like there has to be more(yeah,i repeated myself.Yikes!But i don't care.).In this case?I don't know how to feel ,because with just one story,with just two characters,my heart was full of happines,but at the same time i was heartbroken.Why?Because many things happened,some amazing and some less amazing.But,because of that combination i loved it,i loved every single chapter and it doesn't surprise me at all.Why?Because this book was written by someone amazing.
Reading this book made me laugh,smile a lot,it made me sad and it made me cry a little at the end.It was perfection.I'm still trying to process some things that happened and that drives me a little insane,because i finished this book thinking that it wasn't enough!Yikes.
"Never in all my life and in all my years of living in a world of silence have I wanted to hear something as much as I want to hear her sing right now. I want to hear her so bad it physically hurts."
Sidney thought that her life was okay,considering the fact that she was living with her best friend and had an amazing boyfriend.But little did she know that something was happening behind her back between those two.Meeting Ridge opens her eyes,making her see that her life wasn't okay at all and that they it turned up could have been better.Moving in with Ridge?Changes her life completely,because starting her twenty-two years life with heartbreak and homeless it isn't how she thought it will be,but what if moving with Ridge,the mysterious neighboor who loves to play music every single time,it's the wrong decision?What if there is more heartbreak in the future?Or what if that step is the one who'll make her see that she could be happy again?Everything starts with a few lyrics and one phone number.
Ridge life is exactly how he wants it to be:happy,peacefull and full of music.Even if his dissability makes him work harder when it comes to music,Ridge's talent is extraordinary and it gives ac good example for those who think it's easy.Everything is fine,until Sidney bulldozes her way into his life,turning it upside down and making him feel things he shouldn't feel,because after all he has a girlfriend ,and he is the one who opened Sidney's eyes about her boyfriend and best friend situation.But Ridge's life complicates and transforms into an ugly mess.A maybe someday.
"I feel like my
maybe someday
just became my
right now
."
Can i admit that it drove me insane a little?Don't get me wrong i loved this book,i loved Ridge and Sidney,but every time something happened between them i wanted to scream out loud because it wasn't fair that they couldn't be togheter.But i got used to that idea and i started to understand more about what was happening step by step..I wasn't happy,but at least i got the chance to read how the story transformed from the moment they met until the end.And it was perfection,even if it was heartbreaking.
Well,besides the fact that i had to stop a few times(because i had to sleep and work ..and i hated every single moment of that) ,i refused to read another book ,cause i wanted to finish this one.It was captivating and from the moment i started reading about Ridge and Sidney?I forgot about everything else.
"I'm convinced that people come across others in life whose souls are completely compatible with their own. Some refer to them as soul mates. Some refer to it as true love. Some people believe their souls are compatible with more than one person, and I'm beginning to understand how true that might be. I've known since the moment I met Maggie years ago that our souls were compatible, and they are. That's not even a question. However, I also know that my soul is compatible with Sydney's, but it's also so much more than that. Our souls aren't just compatible—they're perfectly attuned. "
Sidney?Sweet,beautiful and smart,she was the one whose life was messed up from the beginning.Cheated by those who she thought that they loved her,i felt bad for her because she didn't deserve it,but at least i love the way turned out to be after that.I liked her,because she wasn't a drama queen and spoiled.She was simple and talented.A good girl who life gave her too many lemons and she never got the chance to squeeze them in someones eyes.But,i did love those moments when she punched her ex-boyfriend and ex-best friend in the face!It was epic and it made me laugh.I loved her the way her relationship with Ridge and Warren started,and it made laugh out lout because of the way her friendship with Bridgette started.It was hilarious!And those pranks?Haha,that's all i am saying.
Ridge?Too complicated,but i loved him.Charming,handsome,talented and smart,Ridge was the one who transformed everything in something amazing,because despite the fact that he was deaf,he was playing music,something that it shouldn't be so easy to him.But i liked every single moment of that.He was easy to like and i couldn't hate him,not even a little after all the heartbreaking moments.
Both Ridge and Sidney were fighting they feelings for each other,trying really hard not to do exactly what Sidney's ex-boyfriend did to her.But the struggle?That was intense and hard!
Ridge and Sidney weren't the only characters i liked.There was Warren.My God,that guy was a piece of work and he made me laugh a lot.He was the best friend,the one who had Ridge's back when he needed,but sometimes i wanted to shake some sense in him,because he made a few mistakes.Despite those mistakes?He was perfect.Bridgette?Another roomate of Ridge's.Strange girl and it makes me wonder why..I don't have much to say about her,but she made me laugh at first when she thought that Sidney was also deaf.It was funny!Maggie,Ridge's girlfriend,was sweet and hard not to love,but i wanted her gone from the beginning.It might make me look like a cruel person,but it wanted her gone!Why?Because i loved the way things were happening between Ridge and Sidney.
"His memory is the last place I want to be.
I would give anything to always be in his present."
I enjoyed reading this book.It was really good.There were a few scenes that made me held my breath,those were the ones where Ridge and Sidney were writing lyrics,because those were the scenes where the intense moments happened and it made me want more.
This book was complicated from the beginning.I loved the way the characters evolved,transforming step by step from better to amazing,and at the same time those characters transformed this story,making it more amazing.This book was about true love,the struggle to fight true love and a dose of reality.It was the kind of book that keeps you on your toes or it makes you held your breath,because you never know what will come next or what to believe.
You can find my review on GoodReads:
Maybe Someday
.