Book one:Forgetting August.
She can forgive, but can she forget?
Some days, Everly still thinks she sees him. In the food court at the mall, or in a car speeding past as the light changes. It only lasts a second, but when it happens, she slips back to a time when she was ruled-and nearly ruined-by August Kincaid. And it doesn't matter that she's moved on, that she's about to marry another man. In those moments the only thing she can do to regain control is take a deep breath and remind herself that August can't hurt her-because he's in a coma. Except that he's not anymore.

August is awake. With no memories, he sets out to solve the mystery of his lost life. He unearths a photograph of a beautiful redhead named Everly and knows instinctively that she's the key. But when he finds her, the August she describes is more monster than man.

Tortured by the thought of having hurt her, August wants only to become the man Everly deserves. As the new August emerges, Everly glimpses the person she first fell in love with. But can she trust that this August is real? When the final secret of their shared past is revealed, one of them will make a choice that changes their future forever . . .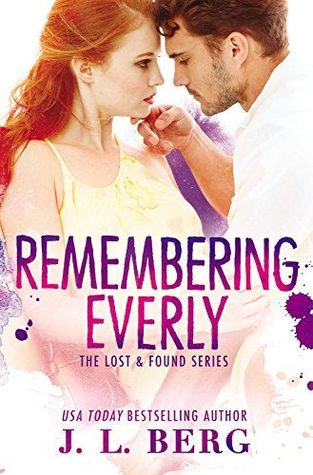 Book Two:Remembering Everly.
After a stunning cliffhanger ending in Forgetting August, USA Today bestselling author J.L. Berg delivers the happily ever after that fans have been waiting for in the sequel, REMEMBERING EVERLY.

He's forgotten his past, but it hasn't forgotten him. After losing two years of his life trapped in a coma, August Kincaid will do anything to win back the love of his life. But his past threatens to destroy his second chance at happiness, it's Everly who is in danger of paying for his crimes.
Review:
''Whether a monster or a prince,this man would always be the other half of my soul,and never again would i wander.''
Since i started reading this series i was overthinking everything,because :
1.The description was too good and i couldn't pass it,but it made me wonder too much and it made me want to read it ASAP!
2.I loved the covers,both ,the one for Forgetting August and Remembering Everly.
3.Once i finished reading the books,well,let's just say that my emotions were all over the place,the main reason being the fact that it drove me insane!Why?Because i couldn't pin-point what could happen next or if the whole mystery about August will be solved.Hmm.
I won't write separate reviews for this series,but i'll start writting about them step by step.
My point:this books were an roller-coaster of too many emotional and too many strange events.Emotional?Because it was!The way everything started in Forgetting August,the way Everly was acting when she found out that August was awake,the way the story transformed from there making everything change so fast (yeah,my head was spinning!),and because of what happened in the book Remembering Everly...Yeah,i'm still trying to process everything,because after all,this books weren't easy at all.A complicated mess with many ups and downs,full of surprises and full of amazing characters.
But...I do have to admit something:at some point i wanted to stop reading this book,because of all the things that happened and because i couldn't understand some things,mainly why August was so afraid of Trent.Yet,here i am trying to pour my soul into this review,trying to find words to describe this books(yeah,i'm choosing to write just one review for both books) and trying to think about how should i write a review about two books who played with my mind and made my head spin.Too much!So far,i see that i'm a rambling mess,but heck if i care.
"Do you think it's possible to be in love with a woman you don't remember?"
So from the beginning.
What happened in the first book
,a little description--->
Everly Adams was just a simple girl,whose life on the outside was perfect and she was one step away from marrying the guy she loved.Or at least that's what she was trying to show everyone.But Everly has some secrets.Secrets that haunt her everywhere,making her think about the past and about everything that happened,about someone who she thought she'll never have to see again.But that someone walks back into her life,turning everything upside down,making her doubt everything and everyone.What if everyone finds out Everly's secrets?What if she'll be forced to confront the past?And what if that's what she wants,to go back and be with the man she loved,even if he didn't know who she was anymore?
August Kincaid life was a mystery.After being in a coma for two years,he wakes up ,but he doesn't remember what happened to him or who he was.Everything was a mystery for him:his identity,hi whole life,where he was or who he was.But one thing makes August wonder everything and makes him want to find out about everything :one photo with a red-headed girl.From there August life has a new purpose:regain his memories and find out who the girl was.
"I want a fresh start. No more comparing me to the man I was. I understand you can't forget, and I don't want that. I just want the opportunity for you to know me and who I am now. I you to fall in love with the August that exists today."
Step by step,everything changes and it transfroms into a fight against everything.
I loved the first book ,because it was amazing,yet it was heartbreaking.Reading everything was fascinating,but i admit that it made me a little sad how a true love ,how two people who loved each other so much,ended up like that.I never believe that it was true,that August was a monster.And reading about him without his memories?Well,that made me want to know more.I wanted to know how the old August was and why was Everly so afraid of what could happen if August would regain his memories.This book was complicated and twisted.The way everything changed and how the characters evolved?It was what made me like this book,but at the same time i hated it a little.
Fascinating or not,i wanted more and it was fun reading about how everything turned out between August and Everly,even if it drove me a little insane.Yet,even if it drove me a little insane,i loved the way they were togheter and it was clear that they belonged to each other.
My opinion:This book had many ups and downs,but i liked every single chapter and it made me want more.Despite a lot of things that happened,i hoped for something good too happen,but all i got was a cliffhanger and ..It was bad!
''Loving him had always been as easy as breathing. Hating him—that had always been difficult.''
The second book
.A little description before i started writting my honest review about what happened in
Remembering Everly
.
Now knowing that August had his memories back,Everly's life returned to normal.Her planning her wedding with Ryan,thinking that she could move on with her life,trying to hate August with all her heart,because she knew that all he ever did to her was to hurt her.But what if all that was a lie?What if Everly's love for August will never die and that her marriage with Ryan will be a mistake?Step by step,everything changes once again.Everly's plans change and once again she tries to make sense of her life.
August's plans are easy:take Trent down.Make him pay for everything,but something was more important that that:Keep Everly safe,at all costs.But what August doesn't realize is that everything was too complicated that every plan he made could backfire ,because Trent wasn't stupid at all.What if accepting someone elses help will help August solve this ?What if telling Everly all the truth will show him that he didn't have to be alone in that?What if...
"I need you, Everly. I need you now, and forever. I'll always want to protect you, but life – whethere it's this one or another – it's not worth living without you."
Well,this book was the one who almost drove me insane,because i was starting to hate all those ''i can't tell her but i want to tell her'; things that happened from the beginning.I hate those types of situations,because :1.It makes me want to punch someone in the face.2.It makes me want to yell out loud that he has to tell because it was the right thing to do..And ,heck,i'm rambling again.Yikes.Don't mind me...
In a way i can say that i expected more from this book,after the way the first book ended-with a damn cliffhanger- i wanted more to happen.Something huge,something that will make me love this book.But i'm not dissapointed,just a little cray-cray(that means i'm officially a little insane.Damn it!),because i couldn't keep up with everything that was happening and because i wish that so many things could have happen better and in a different way.But,i'm not complaining.Yet.
"There have been so many times we've failed at this, August. I can't bear to go through another round of up and down with you."
I finally got to the point where i started to understand why August did a lot of things:because he wanted to protect Everly.But all he ever managed to do was to make her be afraid of him.Hmm.
In this book i hoped that everything will solve and that they could be togheter,but i didn't expect this complicated mess to be a little..boring and too long.Well,in the end it was worth it.
So many things happened and it was the reason why i couldn't stop myself from reading it,even if there were a few times when i wanted to stop.
The fact that this book were about two people who loved each other so much that nothing could keep them apart,was the best thing and the reason why i wanted to read it in the first place.Yeah,i didn't know what to believe at first and it was complicated,but it was worth it.Too many things happened,but i didn't write about them in my review,only about a few things and how i felt about everything.The rest?You have to read the book to find out more about what happened in this series.
You can find my review on Goodreads,and since is just one you can find it
here
or
here
.