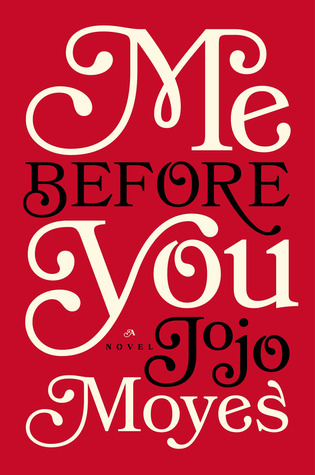 Lou Clark knows lots of things. She knows how many footsteps there are between the bus stop and home. She knows she likes working in The Buttered Bun tea shop and she knows she might not love her boyfriend Patrick.
What Lou doesn't know is she's about to lose her job or that knowing what's coming is what keeps her sane.
Will Traynor knows his motorcycle accident took away his desire to live. He knows everything feels very small and rather joyless now and he knows exactly how he's going to put a stop to that.
What Will doesn't know is that Lou is about to burst into his world in a riot of colour. And neither of them knows they're going to change the other for all time.
Review:
"Push yourself. Don't Settle. Just live well. Just LIVE."
It's amazing how sometimes you find a book that makes you feel things you thought you'll never feel.A book that makes you laugh out loud,smile like a lunatic ,also a book that makes you sad and cry.A roller-coaster of emotional events that makes you appreciate everything you have and that makes you want more from life.Also,a book that makes you realize that everything is worth fighting for,especially if it is about love.
I've started reading this book ,even if i had a few doubts,because i wanted to know what it is about before i'll see the move.And,let's just say that they casted the perfect actors to bring Lou and Will to life.
At first i was a little unsure and i didn't know what to believe,but step by step my opinion started to change,because this was a beautiful story with amazing characters,especially Lou with her happy atittude and weird jokes.I admit that there were moments when i wanted to stop reading,especially when i started to feel like something bad will happen..You know what they say:The calm before the storm.I hated those moments because i knew they'll break my heart.
"You only get one life. It's actually your duty to live it as fully as possible."
Lou's life changes completely in one day when she loses her job.Always cheerfull and full of life,Lou starts looking for a new job,trying everything she can because she knows that things at home aren't good at all.But what she never thought was the fact that she'll end up working for the Trynor family,whose son was stuck in wheelchair after an horrible accident.
Will has no desire to move on with his life because he knows that being a quadriplegic,stuck all day in a wheelchair isn't the best life,but meeting Lou makes him see that not everything is as bad as he thought.Still,will that be enough to change his decisions?Will Lou be enough to make him see that he could have a real life?
It was funny the way everything started.Will with his bad atittude and Lou's cheerfull atittude.Weird or not,i loved them because it was clear from the beginning that being near Lou nobody could have a bad atittude,especially Will.But once they started to know each other,it was perfection.
"All I can say is that you make me... you make me into someone I couldn't even imagine. You make me happy, even when you're awful. I would rather be with you - even the you that you seem to think is diminished - than with anyone else in the world."
Will Trynor,despite the fact that he was in a wheelchair,was an amazing character-charming,funny,smart and handsome.The type of man who wanted to show everyone that nobody could take his decisions away,that he was capable of thinking about what was good for him and for others,even if that meant to take a very drastic decision.I admit that i wanted to shake some sense in him at the beginning,because he treated Lou awfull,but step by step i started to understand him more,but he changed a lot and those changes were the best things that could have happen to him.He as a man who longed for what he used to be..Still,that doesn't change what he was in the present.A strong man who, despite how hard it must have been for him to live stuck in wheelchair ,especially when he couldn;t move his legs and arms,was doing everything is his power to live.I can't imagine how that is ,but i know it couldn't have been easy .Hearbreaking.
The one that brightened this book with her cheerfull atittude was Louisa ''Lou'' Clark.A woman full of life who changed everything from the beginning and i loved her for that.She had a weird sense of humour and a weird way of dressing herself,but that's my point,she was different in every kind of way.Still,i admired her strenght and her determination to help Will,even if at first he treated her awfull.I loved her weird sense of humour,because it made everything good and it made me laugh,even if didn't want to.She was brilliant,smart,beautiful and a sweet girl,who wanted to help Will.A woman who wanted to do everything in her power to show him that life was more than he thought and that even if he was in a wheelchair,he had a right to live.She was stubborn and determined,something that i could see from the beginning.
"...I told him a story of two people. Two people who shouldn't have met, and who didn't like each other much when they did, but who found they were the only two people in the world who could possibly have understood each other."
The relationship between Will and Lou transformed from the beginning,slowly,but at some point it was perfect,because i got the chance to read a little about how everything could be between them.How they got used to each other and how easy it was for them to talk,even if Will was sometimes a little too serious.
Despite that,a lot of things happened in this book.Lou's family was constantly present,always there supporting her,even if they didn't know the whole truth about what was happening and why Lou was fighting so hard to help Will.She had a lovely family,a little crazy and that was funny.But still the best parts of this book were those in which Lou was with Will.
But it was sad to read how everything was too hard for Will,how everything could harm him or how sometimes he prefered to ignore everyone.It was heartbreaking because it was obvious how much he resented everything,especially the fact that he was stuck there and couldn't do everything he wanted.At least Lou managed to make him laugh and think of anything else.Heartbreaking,beautiful and life changing.
You want to know why Will was an amazing character?Because despite his problems,despite the fact that he was trying to make everyone respect his decision,he starting trying to make Lou realize that she needed to live her life like she wanted.With no regrets.Like Lou,he was pretty determined and it was the best thing to read about:how two people ,two stubborn people were trying to change their life ,even if they knew that just one of them will get to do that.
"You are scored on my heart,Clark. You were from the first day you walked in,with your ridiculous clothes and your complete inability to ever hide a single thing you felt."
This book was full of ups and downs,full of surprises and heartbreaking moments,but it was amazing,because it had a beautiful story about two amazing people whose life changed completely after they met.
And,like i wrote above and even if i'm repeting myself,i think that they choose the perfect actors for the movie,Emilia Clarke and Sam Claflin,and i can't wait to see the movie.
You can find my review on Goodreads:
Me before You
.