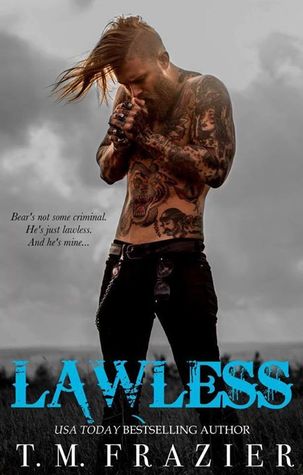 Thia is prim and proper.
Bear is leather and lawless.
It will never work between them.
It's a lie they almost believe...
It is necessary to first read King and Tyrant to fully enjoy Lawless.
Review:
"I was lost in the moment. I was lost in Bear. I knew right then and there that there would be no coming back from it."
I think my heart will explode after the King series will end..Well,maybe it might happen faster,but i don't give a damn!Why?Because i really love this books.A lot.
I have something that i want to confess:I wasn't so sure about Bear's story at first.I mean,yeah,i thought he was an interesting character in the books KIng and Tyrant,but he was a wildcard,someone who makes me think twice about my next step.That was then.Now?I am totally shocked and speechless,and i'm really,really,trying to process everything that happened in this book.And i might have to add another male character on my ''badass characters i love and i want to read more about them'' or ''this guy totally rocked my world'' lists.
Bear's life is full of nightmares.After he left the club Beach Bastard,he choose to go away from everything,from every single thing that reminds him of what happened to him.Away from those who love him ..and away from those who want him dead.But what if something happens and Bear has to go back ?What if something huge happens and once again he has to deal with every single painfull reminder?What if..Those what if's tranform into something incredible...And everything started with a promise.
Thia Andrew's life changes completely in one day.After her mother tried to kill her,she does something without thinking twice:she tries to find the one who made her a promise when she was ten years old.Running away might be best thing at the moment,but running towards him might not be the best thing for Thia..At least,that what he is thinking..Until the unthinkable happens and everything changed completely for both of them.
"When you're at war with the devil sometimes you gotta dial up a demon,"
From the beginning until the end i was fascinated and completely on edge.Why fascinated?Because it seems that this author knows exactly what to write and how to transform a story into something beautiful,but at the same time heart breaking.Why on edge?Because i never knew what will happen next,i couldn't imagined what the maing characters were thinking or what to expect..It was pretty much exactly what i hoped for,even if i wanted to strangle the main characters a few times..Don't ask why,just read the freaking book!You won't regret that.
Hard.Strong.Stubborn.Dangerous.Capable of doing a lot of things, in oder for those who matter to him to be protected..But in this book there was one word that described Bear the best:Lost.And lost wasn't how i wanted to describe him when i found out that this book was about him.Dangerous or not,i liked the fact that Bear wasn't a lost cause.It helped the fact that i've read about in King and Tyrant,so i knew what he was capable of,but still i wished he wasn't so broken.And it was pretty funny the fact that everyone saw what was happening between him and Thia..Especially King and Ray.Despite that,he was an amazing character and i can't wait to read about him..Mainly,because the end of the book shocked the heck out of me.I mean,seriously?!I want more ASAP!
"It wasn't romantic. It wasn't flowery. But it also wasn't lies. It was just us."
A little bit naive.Strong.Stubborn.Beautiful.I never expected Thia Andrews to be like that.Impulsive and good with a gun,who would have thought that the one who will show Bear that pissing off a woman isn't exactly a good choice,will be her.I liked her,even if there were times when i wanted to strangle her because she was being so reckless.Yet,despite that,i still liked her enough.
The best thing?I got the chance to read about King and Ray again.Yay!Those characters are and will always be my favorites.A little too crazy,but heck..Read my reviews for King and Tyrant and then you'll know why.
This book was pretty much crazy from the beginning until the end.Full of ups and downs,many changes..a lot of tension.A roller coaster of emotions..Yeah,my heart was acting like a freaking drum every single time when something huge happened.And the end?It broke my heart and i really can't wait to read what will happened next with Thia and Bear.
You can read my review on Goodreads:
Lawless
.