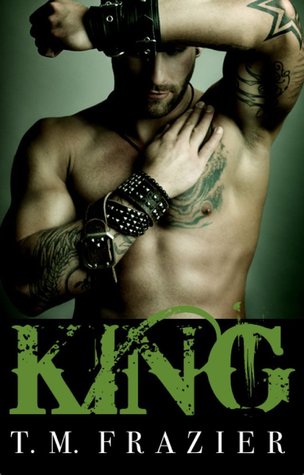 Homeless. Hungry. Desperate.

Doe has no memories of who she is or where she comes from.

A notorious career criminal just released from prison, King is someone you don't want to cross unless you're prepared to pay him back in blood, sweat, pu$$y or a combination of all three.

King's future hangs in the balance. Doe's is written in her past. When they come crashing together, they will have to learn that sometimes in order to hold on, you have to first let go.


Warning: This book contains graphic violence, consensual and nonconsensual sex, drug use, abuse, and other taboo subjects and adult subject matter. Although originally slated to be a standalone, KING is now a two part series.
Review:
"Because when it comes to me and mine, I am the judge. I am the jury. And if need be, I am the motherfucking executioner."
It took me 5 hours to finish this book. You want to know why? Because once i started reading it i couldn't stop . Yeah,it was that good and i want more. Now!
Why i started to read this book? It's pretty simple...
1. Because i loooved the cover-the perfect description of one of the main characters(and my new book boyfriend,even if he broke my heart a lot ,that guy was also capable of making me fall in love with him..Bastard.)
2. How can i ignore this book when the description is that good? I can't and i'm really glad that i didn't. This whole story was too good for me to ignore.
3. Tyrant better be the best or else..
Well,in a few words i described the Why's, and pretty much my answers were all about the cover and description..But now? Let's get the party started.
"King filled me so completely. Not just my body. My heart. My soul. My life. I didn't give a shit if I ever got my memory back. Because with King, I knew exactly who I was. I was his."
Even if it was love at first sight,i still wasn't sure about this book. I mean ,yeah i was curious,but recently i tried to read a few book about bikers and let's just say that those weren't exactly my type(don't try to find which books,cause you won't find them.),so when i saw this one i said:Why not?I have nothing to lose.
And i couldn't stop myself until i finished the book. It was that good,even if my heart broke so many times..But at least i got the chance again to read about a hate-that-transforms-in-love relationship,and,of course, true love between a bad boy and an girl who doesn't know who she (amnesia). Crazy,right? But i loved every single chapter. Why? Because it was full of surprises,crazy moments,bad/happy moments-a roller coaster of moments that turned everything upside down. Good or bad,hell it doesn't really matter. What really matters is the fact that ,after every messed up thing that happened in this book,i still want more.
"I think you are the most stubborn, overbearing, anger inducing, obnoxious, complicated, and beautiful man that has ever lived."
"I think you are beautiful, too," King breathed."
Doe's life is full of darkness because something happened to her and can't remember who she is or anything from her past, but she is trying really hard to survive . She has a singlr choice :find a biker who will like her or wait until something bad will happen to her. But life puts her in King's way..Or should i say desperation?
King isn't like everyone. After 3 years in prison,all he ever wanted was to show everyone that they should be afraid of him,that he didn't answer to anyone..That he was the bad guy. Until Doe..
You know how it is with a hate-love relationship at first right? All the screaming ,the threatening and all that jazz?Yet somehow ,at some point,thag will transform into something better. Well,heck,i expected that to transform in something better,or else my poor heart.. Yeah,at some point i thought that my heart will explode. And i do not like that,at all.
Hate.Love.Bikers.Best friends. Bad guys. Good Girls.True love. Lies. Truth.And the list is too freaking long.
"I can't stay away from you anymore. I tried, and I can't do it. I want you. I need you to tell me all that hesitation bullshit is over and that I can have you. Stop being alive, and start living."
Despite his bad boy attitude,i knew that King will be the one who will make me want to know more . Bad boy or not,i still liked him enough and my heart broke every single time he made a decision that ended up breaking his heart. Always thinking about the others,tsk,tsk. But i know who he was thinking and i can say that i understand perfectly everything,even if a part of me hates that. I loved those moments when he was acting like a man who was in love,not like an lunatic who wanted to be i control,yet i can't stop myself wondering if the book would have been the same ..No,it wouldn't have been the same,so i'll stop whising for that,because i really like his bad-boy-obsesed-with-control persona . Despite everything,i knew what King was trying really hard to do:he was trying to get his daughter back,even if he knew that that was a little hard because of his reputation. So,my question: how can i hate him now after knowing what he was fighting for? I can't.
"This place was as confusing as King. Hard edges, unfinished and unrefined, yet mysterious and beautiful in it's own way."
Doe-i'm not sure what i feel about her. It was funny how she was driving everyone crazy with her questions ,it made me laugh a lot. Despite that,she was pretty much what King needed in his life-someone who could show him what it means to be loved,not used. She was an amazing character and somehow,(this is a miraclee!!) she's the first female character from a story like this one that didn't make me wish that i could shake some sense in her..Miracle ,indeed.Let's see for how long.
Step by step everything changed. With each chapter i started to learn more about King and at some point i wished that somehow i'll found out the truth about who Doe was.
"Things doesn't always start out the way we want them to. It's how they end that's important."
Even if i knew that with the truth everything will changed- in a good way or bad way.
There were other two characters in this book that made me laugh a few times- Preppy and Bear.
Preppy-funny guy and loyal. I loved him with all my heart and i wish that i could have a best friend like him.(well,let's just say that i didn't agree with a few things,all related with his way of having fun). Smart,funny and charming-that's how Prepy was until the end. And what happened to him? Heart-breaking and not fair. At all.
Bear?That guy wasn't exactly a favorite of mine,but still i can't ignore him. After all he was always present ,in one way or another. A loyal friend. I don't know what else to write about him.
The last chapters of this book surprised me and i still can't believe what happened. Crazy or not,it was perfect ,even if almost all the time King and Doe were screaming like two lunatics who hated each other. Huh,talk about anger issues.
But the end shocked the heck out of me..I mean,seriously? A kid? How..Why..Speechless.
I want more ASAP!
You can find my review on Goodreads: King .