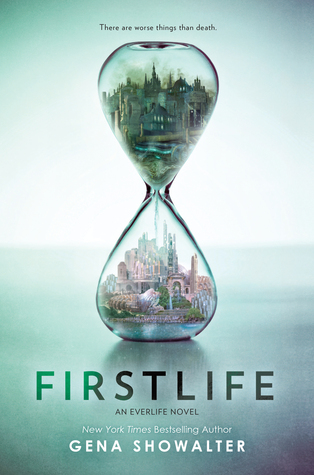 ONE CHOICE.

TWO REALMS.

NO SECOND CHANCE.

Tenley "Ten" Lockwood is an average seventeen-year-old girl…who has spent the past thirteen months locked inside the Prynne Asylum. The reason? Not her obsession with numbers, but her refusal to let her parents choose where she'll live—after she dies.

There is an eternal truth most of the world has come to accept: Firstlife is merely a dress rehearsal, and real life begins after death.

In the Everlife, two realms are in power: Troika and Myriad, longtime enemies and deadly rivals. Both will do anything to recruit Ten, including sending their top Laborers to lure her to their side. Soon, Ten finds herself on the run, caught in a wild tug-of-war between the two realms who will do anything to win the right to her soul. Who can she trust? And what if the realm she's drawn to isn't home to the boy she's falling for? She just has to stay alive long enough to make a decision…
Review:
Firstlife- it was a surprise for me.At first i thought that it was okay ..Well,i needed to read more in order for me to understand that it was more than okay. It was absolutely amazing surprise.And i was completely intrigued and curiouse,because after 5 chapter i couldn't stop reading. Too bad that i had to sleep ,go to work and do other things. But at some point i managed to finish the book!Yay me.
This is not the first book written by ... that i've got the chance to read and i can honestly admit that i'm not surprise about how she writes,but the whole idea about souls,two realms ,first lifes and second lifes was pretty much a big suprise for me. In a good way.
In a way,you can say that i devored this book from the moment when i started reading about Ten,Archer and Killian.It was pretty much crazy,but i liked those characters. Badass! All of them where amazing ,but together?Well,a few times i laughed out loud- the tension between the boys was huge and the way they were acting when they were close to each other was a little strange and sometimes funny. And Ten?That girl was incredible.The best thing about her:she wasn't whining all the time or acting like a lunatic. She was stubborn and determined to keep her freedom and save her life..That was until she met Archer and Killian.
Oh..I forgot to mention what this book is about..Yikes. After Tenley Lockwood refuses do sign with Myriad or Troika she is sent into an asylum, a place where kids Unsigned are sent so they can be manipulate and tortured into signing with one realm. But despite everything that happened to Ten she still refuses to sign. But ,both Myridia and Troika want her,and they'll do everything they can do get her to sign. Between Ten's life in Prynne and what the boys had to so in order for Ten to sign with an realm,i started ro wonder which realm will be the one to fall first or from which realm a character will stand above and do something wrong,who will betray everyone?
When i first started to read about the boys i was a little unsure. Both were stubborn and determined to make Ten sign,but step by step everything changes. Killian-Myriad laborer. Oh,hell!I really liked that guy,even if sometimes he was too blind to see what was in front of him. But his irish accent?Heck yes! That was pretty much why i started to like him even more..That and the fact that he finally got the chance to so something good. Something for Ten..And ,of course,for him.Charming , handsome and badass,capable of doing everything in order for her to survive. Heh,that's what i'm talking about.
Archer-Troika laborer. Sent in Prynne to make Ten sign with Troika,but somehow ends up doing something else:he became friends Ten. He was amazing just because he was trying to protect Ten,even if he was trying in his way to make her sign. But what was important for me?The fact that he protected her with his life. I accept that. But like Killian,Archer was very stubborn. Ha. Crazy,but i loved him.Also,he was badass!
Yeah,well,i can't choose between Killian and Archer. I loved them both,but..I guess if someone asked me which one would i choose,in that case my answer will be:Killian.
The story was incredible and i got the chance to read something else,something different and unique. It was full of surprises,battle for survival,battle between the realms and finally a unique friendship fromed between the characters.(well, Killian and Archer weren't exactly friends but what they did together ..They were friends once,so..)
I loved the whole idea how Ten fought for something different-for a choice,so she could live her life like she wanted. After all she was sented in Prynne by her parents,because she wanted something different.
Sloane-i'm not sure if i should write something about her. There were moments when i started to like her and i thought that she will be a favorite of mine until the end..but surprise,surprise..My opinion changed. My opinion about a lot of things changed ,so i'm not surprised by that.
The end?I'm schoked,speechless,angry,confused..And the list goes on.
Why?Why?Why? And i want more ASAP!
My point is that the story was amazing and it had badass characters.A lot of ups and downs. A lot of surprises. And a lot of good/bad moments.
This book may not be perfect from the beginning,you may find it strange and you'll be a little confused at first,but step by step the story will begin to be full of surprises and then the fun begins.