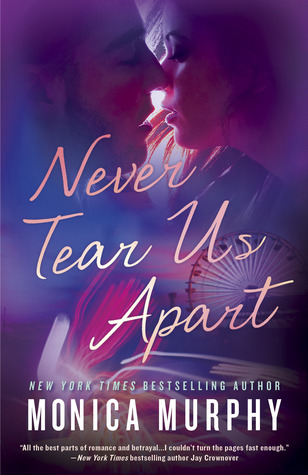 Perfect for readers of Colleen Hoover, Jay Crownover, and K. A. Tucker, the first novel in this darkly sexy contemporary series from bestselling author Monica Murphy kicks off an emotionally powerful two-part tale of forbidden love.
Crazy how eight years can disappear in an instant. One look at Katie Watts, and I'm a fifteen-year-old again—the one who risked everything to save a terrified girl from her twisted kidnapper. She's grown-up now—beautiful, quiet, composed—and telling her story to the world. A story that involves me in more ways than you can imagine. She used to call me her guardian angel. Sure, I risked my life, but she was worth dying for.
I need to make contact with her. Just to ensure that she's safe.
Somehow we reconnect. We become friends . . . but I want more. I want to make her mine. And she wants me too. Does she know who I am? Has she figured me out? Not yet. But she will. In the meantime, I need to make sure that whatever hold that animal had on her is gone.
So, yeah, I'm stealing these moments with her. Savoring them. Knowing, dreading, that she'll soon find out who I really am. And everything
will
fall apart. All because of that twisted, perverted monster sitting on death row. Her kidnapper. A convicted serial killer.
My father.
Review:
It seems like i have an weakness for books like this one.Despite them being about abuse and bad situations,i want to read them ,mainly those where everything ends up being good,especially for the main characters,Don't get me wrong i'm don't enjoy reading about abuse,my main focus ,when i read this type of books ,is on the characters.On how they get the chance to be happy again .
This is not the first book that i've read written by Monica and i'm thrilled that i got the chance to read Never Tear Us Apart.It was an amazing book,full of ups and downs .It had an powerfull message.
But..I will begin with this: I'm really,really,really MAD!Yikes.Why did it had to end like that?Why? Cliffhanger Endings...I hate them!*sob*
This story was about two young people who saw how cruel life could be.They both experienced something that nobody should have to get through,but they saved each other,even if in the eyes of the others it seemed like a lie.
At first i wasn't so sure if i should read this book until the end..I mean it had an interesting beginning and i after a while i wanted to know more about what happened to Katherine.But ,when i started read about Ethan..Um,okay..I admit that i thought he was too obssesed.A little crazy.Ha.Insane!
But after a while i got the chance to understand everything..Why he was acting like that and why he was so obssesed with Katherine.
The story was sad and hard,but reading how Katherine tried so hard to move on with her life ,to face her fears and do everything she could to escape the past made me glad that i decided to read this.
It was an interesting read and i got to the point where i wanted more.
What i liked about this book was the fact that the author decided to show us glimpses from the past-about what happened to Katie and Will .
Katherine-despite every bad thing that happened to her,despite her struggle to move on,she was strong enough to do something ,to show everyone that she wasn't weak and that she could conquer her fears.Step by step.Brave,even if she knew that she had to be careful.
And Ethan?Sweet,protective,charming and ,yeah,a little obssesed-but he had so many reasons to be like that.But i hated him a little because he lied so much.Can i just say that i wanted to shake some sense in him?Badly!
But the story was perfectly imperfect.Like i said above it had many ups and downs,between Katherine's wish to conquer her fears and Ethan's desire to be close to her,i was a little angry because of the way Lisa Swanson(the reporter) was always trying to make them talk and her presence was a little annoying.
Now after i've read this book and how it ended..Well,i really want more!And..Again why did it had to end like that?Seriously..