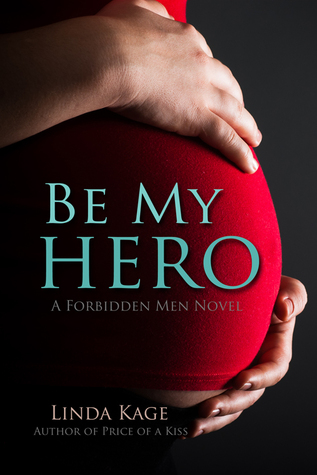 Once upon a time, there was this pampered rich girl who was kind of full of herself. She really only cared about appearances and hiding all her dark, ugly secrets under the guise of an opinionated snob. But then Eva Mercer got pregnant, shot by a psycho, and kicked out of the only home she knew. Now she's broke, unemployed, and has to start anew with a newborn to raise. But how?
On the other side of town, sexy, tattooed orphan, Patrick Ryan, can't get a break. He's out on parole for defending the last damsel in distress while trying to help her support her child, but all he wants is to find his one true love. He knows this woman by scent, smile, and laugh, but he's never actually met her. He doesn't even know her name. He just knows she's the key to fixing everything.
One kind of hero can save you from physical harm. Another can rescue you from a different kind of doom. To reach their dreams, Eva and Pick can save each other. But first, they must open their hearts and learn how to trust.
Review:
"You don't even know what your mere presence does to me. You're my sanity."
Once again i'm honestly shocked ,in a good way,about what i've read in this book. It was pretty much perfect and beautiful ,even if a lot of crazy things happened in this book.
I admit that i'm still trying to process everything,but i won't deny the fact that the end of this book made me cry a little.
Be my hero was rollercoaster of events :some were funny,others were sad,but this was the kind of book that made my smile a lot. Despite those sad moments ,i was constantly trying to remember all the good things that were happening to the main characters.
In the first books ,Price of a kiss and To professor ,with love , we got the chance to meet for the first time Eva Mercer and Patrick Jason Ryan, but in Be my hero,we get the chance to read a beautiful story about two people whose path cross and changes them completely. It transforms them in two incredible people who finally got the chance to understand how it feels to be loved.

"You make me so happy," I murmured in awe."
"That's the plan, Tink."


This book..It was full of surprises.Between what was happening with Eva and Pick(Yeah,that's Patrick),i was soo happy that i could read about Mason and Reese too,and ,of course, i didn't forget about Noel,Aspen,Quinn and Ten. But ,i admit that all my attention was on Eva and Pick.Crazy as it sounds,despite all those things that happened i loved their story. It was funny,romantic,sad,happy and full of love.
Eva Mercer wasn't one of my favorite characters in Price of A Kiss ,but everything changed from the moment she got pregnant. I swear that it was an miracle the way she completely changed. And i'm really glad that that happened. I'm not sure if i could've read a book about her if she was the same girl she was in Price of A Kiss. But she was different in this book. I got the chance to see another part of her and it made me like her . With each chapter written from her point of view i started to understand her more-why she was acting like a lunatic in Price of a Kiss and how suddenly she changed after she was kicked out of her parents house because she was pregnant. She was diferent and i'm really glad.

"You have given me things I never even knew I needed or wanted, but they've ended up being the most precious things I've ever had."


Who would have thought that the one who would make Eva Mercer fall in love,will be exactly the one guy who knew that he had to do everything in his power to protect a girl from his past..who also had a child.Even if that meant he had to sacrifice his own happiness. Heck,Pick managed to surprise me a lot. Despite being handsome,charming and a real gentleman,Pick was the kind of guy you could trust anytime. Now more than ever i understand why he was so fascinated with Eva..And i have to say that i agree. A lot. He wasn't like i thought and i liked him ever more because of the way he was taking care of a child,even if he wasn't the father. Warm and fuzzy! Uh-huh.


"You know how you keep saying I was your hero and I saved you...? That's bullshit. You're my hero. Meeting you in those glimpses saved me. It made me want to be a good person so I could deserve you when I finally found you. And now that you're here, holding me and letting me love you when I just want to implode from the inside out . . . " He buried his face in my hair and inhaled deeply. "You don't even know what your mere presence does to me. You're my sanity."
Rollercoaster of emotion..Yeah,well,Pick and Eva's story was full of ups and downs. Full of beautiful moments,but ,unefortunetaly,there were a lot of bad moments too. But at least now - i mean,after i've read the end of the book,i know that both Eva and Mason could live in peace without wondering if the nightmares from their past will keep coming back. And that was the best scenes that could have happen in this book.
I liked reading this story,even if sometimes i wanted to shake some sense into Eva and Pick. And i enoyed reading about the club Forbidden where the guys were working,the place where Eva and Pick finally met.
You can find my review on Goodreads:
Be my hero
.