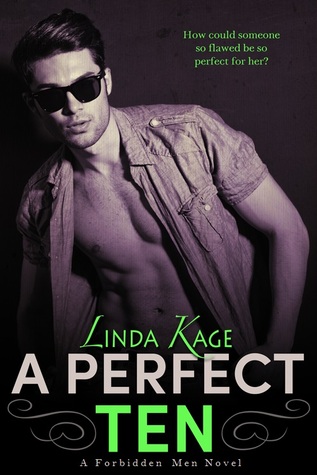 Let your hair down, Caroline, they said. It'll be fun, they said.

I know I've closed myself off in a major way over the past year, ever since "the incident" where I messed up my life completely. It's past time I try to live again or just give up altogether. But this is quite possibly the craziest thing I've ever done. In a last ditch effort to invigorate myself, I'm standing outside Oren Tenning's bedroom, I just peeled off the sexiest pair of underwear I own, and my hand is already raised to knock. My brother would disown me for doing anything with his best friend, and he'd probably kill Oren. But if I play my cards right, no one will ever know about this. Not even Ten.

Maybe after tonight, I'll finally get over this stupid, irrational crush I hate having on the biggest jerk I've ever met. Or maybe I'll just end up falling for him even harder. Maybe I'll discover there's so much more to my crude, carefree hunk than meets the eye.
Review:
<"I was supposed to go with you, wherever you went. We're a team. You told me once that I had to have a place. Well, I finally figured out where it is. It's with you."
It seems like i can't stop myself from reading this books!I mean ,here i am again writing the review for another book from the Forbidden Men series.Well,i loved those characters and i want to know all their story.More then that i wanted to read Ten and Caroline's story.Yeah,well,who would have thought that a guy like Ten will get such an amazing story?I did.
The first time when i've read about Ten was in the book To Professor ,With Love,he was the crazy one,the one who made everyone laugh and the one who acted like it was okay to be a man-whore.But,in a way,that was a facade.Something to keep off the attention.Something to show everyone that the truth about his life wasn't interesting.Even if he was the best things that could happen to someone.
Despite the whole things with sleeping with a lot of women,Ten was the kind of friend that was always there helping,showing everyone that he can be trusted.And he made me laugh so much.
But meeting Caroline Gamble changed him completely.And it was fun reading how Ten changed..Or how their life transformed in something more .
Caroline's life turned upside down when she lost her baby-something that she didn't want,but when she had done that she was a teenager and scared out of her mind.After moving in with her brother in Ellamore,Caroline never thought that she was going to be happy again.Until Ten.
"So this is my Pathetic Loser's confession: I am Oren Tenning, and I have fallen. Hard."
Man-whore or not,i loved Oren Tennings a lot!He wasn't like everyone thought and once i got the chance to read more about the real Ten,well,let's just say that i can't get him out of my damn mind.Sweet,charming,funny and a good friend,Ten fought very hard to do what his best friend asked him to do:stay away from Caroline.But that wasn't something easy.Not at all.
Thank God,Caroline turned up to be more stubborn then her brother.
Something that made the fact that they were perfect for each other:Caroline's attitude matched Ten's.They were exactly the same in that department.The only that was different,was the fact that Ten liked sleeping with a lot of women.Bad,Ten!Bad.But i know why he turned up like that.I know the reason why.And i guess it was enough.
''That's the curious thing about temptation. It festers and grows. You feed that bitch enough and she morphs into craving, and then craving turns into obsession. Pretty soon, nothing in your life is as important as that one thing you want but can't have.''
I won't write about those intense scenes between Ten and Caroline-they were perfect for each other and that's the only thing that matter.But i laughed out loud every time they were arguing and acted like they can't stand each other.It was fun!I couldn't stop smiling every time they were together.Heck,sweet and fun.Yeah,yeah,i know i shouldn't write that Ten was sweet,but he had his moments.
But..Like always ,like in all the stories,something had to happen.Something bad,something that at some point made me believe that everything will never be the same.Why?Because Noel freaking Gamble was too stubborn to see what was happening right in front of him.Hmm,well ,now i wonder why i liked Noel when i've read his story?Yeah,i hated that everyone was lying and that Noel couldn't understand everyone,but c'mon!At least,everything settled down,even if something incredible wrong had to happen in order for something good to happen.Ugh!
''I was addicted to this girl.I wasn't anywhere near ready to give her up.''
Can i just say that even Noel couldn't stop what was happening?Yay!Again,i loved reading about everyone.Step by step i get the chance to read more about my favorite characters and i can see how much they changed and evolve.It's fun to keep up with everything.And in this book?Well,everyone got the chance to have fun,especially when it came to tease Ten or help him with Caroline.
You can find my review on Goodreads:
A perfect Ten