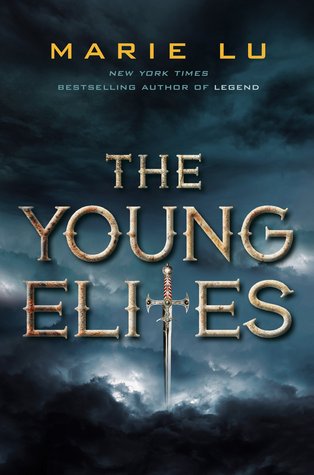 I am tired of being used, hurt, and cast aside.
Adelina Amouteru is a survivor of the blood fever.
A decade ago, the deadly illness swept through her nation. Most of the infected perished, while many of the children who survived were left with strange markings. Adelina's black hair turned silver, her lashes went pale, and now she has only a jagged scar where her left eye once was. Her cruel father believes she is a malfetto, an abomination, ruining their family's good name and standing in the way of their fortune. But some of the fever's survivors are rumored to possess more than just scars—they are believed to have mysterious and powerful gifts, and though their identities remain secret, they have come to be called the Young Elites.
Teren Santoro works for the king.
As Leader of the Inquisition Axis, it is his job to seek out the Young Elites, to destroy them before they destroy the nation. He believes the Young Elites to be dangerous and vengeful, but it's Teren who may possess the darkest secret of all.
Enzo Valenciano is a member of the Dagger Society.
This secret sect of Young Elites seeks out others like them before the Inquisition Axis can. But when the Daggers find Adelina, they discover someone with powers like they've never seen.
Adelina wants to believe Enzo is on her side, and that Teren is the true enemy. But the lives of these three will collide in unexpected ways, as each fights a very different and personal battle. But of one thing they are all certain: Adelina has abilities that shouldn't belong in this world. A vengeful blackness in her heart. And a desire to destroy all who dare to cross her.
It is my turn to use. My turn to hurt.
Recenzie:
Imagineazati ca trebuie sa traiesti intr-o lume in care daca ai puteri inseamna ca esti un demon,un monstru.Ce ai face?Ai fugi sau ai lupta pentru viata ta?
Am inceput sa citesc The Young Elites deoarece am crezut ca descrierea este interestanta si poate ca o sa fie exact genul de carte care imi place.Ei bine,a fost ceva nou.Dar...intotdeauna exista ceva care ma face sa vreau sa zbier in gura mare:"NU!Nu este corect!".De data asta nu a fost doar un lucru,ci:TOTUL!
Personajele au fost incredibile si mi-a placut cum au fost descrise.Mi-a placut sa citesc despre malfettos si despre The Young Elites,dar nu mi-a placut cum erau tratati.Ceea ce pot sa spun este ca mi-au placut personajele care aveau puteri din aceasta carte si as fi vrut sa-l pocnesc pe Teren(un personaj negativ) in fata.Yikes!Furie...Furie..Respira..Respira..
Recunosc ca la inceput am fost foarte confusa pentru ca am incercat sa inteleg ce se intampla cu Adelina,personajul principal.By the way,ii un personaj foarte badass!Chiar daca nu isi putea controla puterile-am stiut de la inceput ca urma sa fie o persoana de care toata lumea ar trebuii sa se teme.De ce?Daca puterile unei persoane cresc mai puternice datorita frici si a furiei-acea persoana este exact persoana de care ar trebuii sa te temi.Dar ,bineinteles,Adelina nu era singurul personaj badass!
Sunt obisnuita sa citesc despre carti in care lumea este devastata de febra sangelui sau alte lucruri,asa ca nu am fost surprinsa sa citesc despre ce s-a intamplat dupa febra sangelui.Despre cum s-a schimbat lumea si despre cum oamenii au capatat puteri.Dar ceea ce ma facut sa imi placa aceasta carte a fost razboiul dintre The Young Elites si Inchizitia Axis.(Ghiciti ce?Urasc Inchizitia Axis.)
Viata Adelinei s-a schimbat intr-o singura noapte.Fiind tratata ca pe un demon din iad de catre tatal sau incepuse sa-si doreasca mai mult de la viata-isi dorea sa fuga de acasa.Si a facut asta,dar cu un pret.
Mi-a placut cand am inceput sa citesc cum Adelina a inceput sa riposteze.Cum dorinta ei de a invata sa-si controleze puterile au facut-o sa realizeze faptul ca trebuia sa faca ceva ca sa nu mai fie niciodata folosita,ranita si aruncata la o parte.Dar viata Adelinei se schimba din nou pentru intodeauna.
Mi-a placut de Windwalker si de Star Thief-doua Young Elites care au ajutat-o pe Adelina.Acele personaje au fost amuzante si badass.Dar,trebuie sa recunosc ca cel mai mult mi-a placut sa citesc despre Enzo.Fermecator si misterios,exact genul de personaj care te face sa lesini doar cu o simpla privire.
Oh-Si Raffaelle-personajul meu preferat.Fermecator,amuzant si adorabil.Raffaelle este singurul care ma facut sa cred ca poate nu se va intoarce impotriva Adelinei.Ei bine,am gresti.Dar nu a fost vina lui.
Ei,a venit si partea unde scriu despre personajul care nu mi-a placut absolut deloc:Teren.Zgarcit si un pic nebun-asta-i parerea mea.Dar dorinta lui de ai distruge pe mallfettos?Asta nu o s-o inteleg niciodata.El era unu,asa ca de ce?
Recunosc ca mi-a placut povestea.A fost ceva interestant si bun,dar nu mi-a placut ce s-a intamplat cu Enzo si cu...Adelina.Fara spoileeer!
Cititi aceasta carte repedeee daca va placut cat de cat sau daca vi s-a parut interesant ce am scris mai sus!