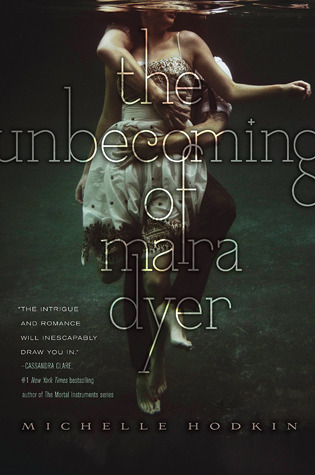 Mara Dyer believes life can't get any stranger than waking up in a hospital with no memory of how she got there.
It can.
She believes there must be more to the accident she can't remember that killed her friends and left her strangely unharmed.
There is.
She doesn't believe that after everything she's been through, she can fall in love.
She's wrong.
Recenzie:
Prima oara cand am citit aceasta carte am crezut ca a fost interesanta dar nu exact genul meu,dar acuma dupa ce am recitit-o pot sa spun ca regret din tot sufletul faptul ca i-am dat 3.5 stele la inceput.De ce?Pentru ca acuma inteleg 100% ce s-a intamplat cu Mara Dyer si de ce ar trebuii sa recitesc si a doua carte din nou!
Recunosc ca am gresit si ca aceasta carte este exact genul de carte care ma tine ca pe jar si ma face sa imi doresc cumva sa aflu ce se va intampla cu Mara si cu celelalte personaje cat mai repede.Dap,vreau mai mult si mai repede!
Mi-a placut foarte mult personajul Marei chiar daca a fost putin ciudat ce i s-a intamplat.Este exact genul de eroina de care imi place:puternica si curajoasa,pregatita de orice.
A fost ciudat cum s-au intamplat unele lucruri dar mi-a placut faptul ca aproape tot a fost misterios si ca nu a fost genul de carte ca sa dea toate detaliile de la inceput.
Reactiile mele in timp ce citeam cartea:
Inceputul ma facut curioasa si era cam asa: Ce?De ce?Vreau sa stiu mai mult!!
Dupa ce am citit 3-4 capitole: OMG!Suna foarte bine.
Dupa ce am citit mai mult despre ce i s-a intamplat Marei si prieteniilor ei:.Asta nu poate fi adevarat.Oh..
Cand am citit prima oara despre Noah Shaw: Yup,ea nu poate sa-l ignore.Sau: Il iubeeesscc!
Puterile Marei m-au facut sa ma indoiesc de foarte multe lucruri deoarece sincera sa fiu incercam sa inteleg cum si de ce ea avea acele puteri.Da,a fost destul de interesant ceea ce facea si cum a supravietuit dupa tot ceea ce s-a intamplat,dar recunosc ca a fost ciudat.
Sincera fiu trebuie sa citit aceasta carte.Cel putin ar trebuii sa incercati pentru ca este foarte interesant si poti deveni dependent de acest tip de poveste.